Chocolate chip + Skor Cookies
Prep Time – 15 Minutes + 2 hours for dough to rest

Quantity – 30 Cookies

Tools
Stand mixer with the paddle attachment
Cookie scooper – tablespoons work too!
Baking sheet trays
---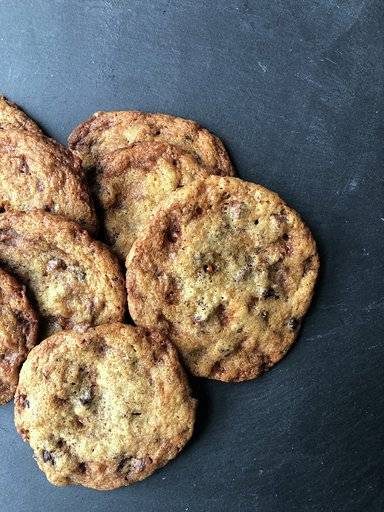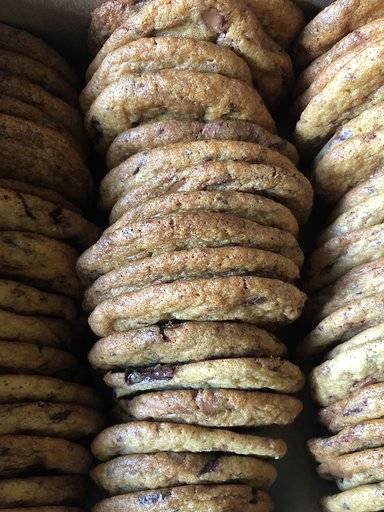 2 cups All-Purpose Flour
1 tsp Salt
¾ tsp Baking Soda
¾ cup Unsalted Butter, room temperature
¾ cup Brown Sugar
2/3 cup White Sugar
2 Eggs, room temperature
2 tsp Vanilla Extract
1 cup Milk Chocolate Chips
1 cup Skor bits
2/3 cup Dark Chocolate, chopped
---
In a medium bowl whisk together the flour, salt and baking soda, set aside.
In a stand mixer, fitted with the paddle attachment, cream the butter and both sugars until light
and creamy – this will take about 3 – 4 minutes of mixing on medium speed. Once creamed,
add the eggs one at a time. Once eggs are incorporated, add vanilla and mix to incorporate, this
should take less than a minute.

Once all liquid ingredients are combined add flour mixture ½ a cup at a time until incorporated.
Once complete, add all chocolate and Skor bits, mix just until incorporated, careful not to
overmix.

When the dough is done, remove from the mixer, and place covered in the fridge for at least 2
hours or overnight. This will allow the butter to harden and flavours to develop.
After the 2 hours is up, remove from fridge and use a cookie scooper or tablespoon to make
cookie dough balls. Bake at 350F for 10 – 12 minutes. Depending on your oven, the cookies may
bake a little faster or slower, you are looking for a nice golden colour. The cookies will be soft
when they come out of the oven, don't worry they will harden over the next couple minutes!
Let the cookies rest on the baking sheets for 5 minutes before placing them on a cooling rack.

**Tip – take out a minute before they're done, then leave them in for an
extra minute. Cookies will continue to cook on the baking sheet, so it's best to let them rest for
5 minutes on the baking sheet before removing them.
---
---
MEET THE CONTRIBUTOR
Victoria Ammendolia
Victoria Ammendolia is a pastry chef and founder of Vic Baking Things (VBT), a made to order bakery based out of Toronto. After years of working in the corporate world, she decided to pursue her passion, en roll in culinary school and start VBT. Vic Baking Things aims to serve its customers high-quality takes on classic favourites with the hopes of bringing people together to share freshly baked goods and create lasting memories.