I am Morgan and I am the founder of GIRL GANG GOODIES, an online cookie delivery service here in Toronto, Canada. I started this online bakery in 2018 after going through a really challenging year, which looking back felt like a giant trash fire (kind of like right now!). The premise was my boyfriend had a bad accident (he's ok) but it really rocked me. And around New Year's Eve time, I was looking back and reflecting on the past year, and what I was incredibly grateful for was my personal girl gang. The powerful womxn in my life who showed up and supported me through the worst time in my life.
At the time, I was working for a huge brand and working in brand strategy. I have always wanted to be an entrepreneur, so to fill myself creatively and bring positivity into my life, I decided to start a side hustle. I decided I wanted to build a brand grounded in the ethos of celebrating these powerful womxn. Reflecting on my experience, I realized no matter how you identify, we all have these women who show up and support through the tough and triumphant. With this sentiment, the namesake GIRL GANG was born.
---
The GOODIES come from a recipe from my dad's ex-girlfriend in the 70's. She moved out, my mom moved in, and found this recipe card for a cookie. My mom added the secret spice, she became a wife and bad ass mom who taught me, and I have been making them ever since! So, I decided to launch an online cookie delivery business – I launched and 2 weeks later I quit my job and took it full time.

I've been in business 2 years, am a solo entrepreneur and due to COVID-19 my kitchen has closed and the challenges of getting supplies, my business is temporarily closed. As a way to stay connected to my GIRL GANG GOODIES community, I wanted to share some of my personal favourite recipes that I have created so people can bake at home in a new series called #letsbake. Just because we are physically alone does not mean we stop being a community.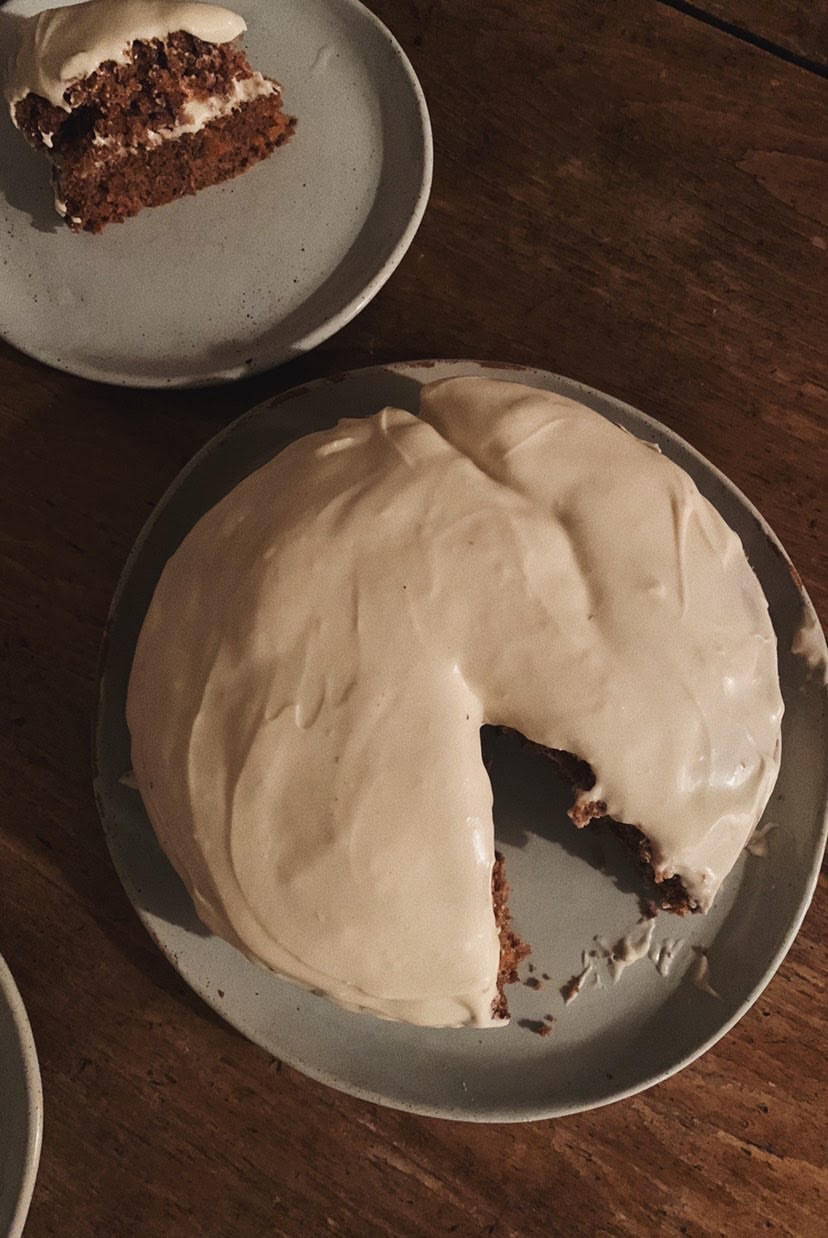 ---
This is my carrot cake recipe which my mom taught me and first of the #letsbake series. With carrots coming into season, this is the perfect late spring and summer birthday cake. Or it can be made into cupcakes for individual enjoyment. Or leave out the icing and call it a carrot muffin! It's quarantine, there are no rules here. This is one dessert I have no self-control around and will hover around the cake just slicing slivers off until its finished. The orange zest really brings this together and makes the flavours pop. Let's bake!
---
RECIPE

INGREDIENTS: CAKE
1 cup granulated sugar
1 cup canola or vegetable oil
3 eggs
1 1/3 cup flour
1 1/3 tsp baking soda
1 tsp salt
2 tbsp cinnamon
2 cups of grate carrots
Zest of 1 orange
Coconut Oil
Optional: ½ cup of raisins and/or toasted walnuts or pecans (skip for a nut-free option)

INGREDIENTS: ICING *
¼ cup of room temperature butter
4 oz cream cheese
1 ½ cup icing sugar
Optional: Zest of one orange if you want zest in your icing!
Note: Double this if you are doing a double layer cake!

TOOLS:
Stand or hand mixer or whisk, 1 bowl, zester or cheese grater, loaf pan or 1-2 round cake pans if you plan to
stack the cake

GIRL GANG GOODIES CARROT CAKE RECIPE:
1. Preheat oven to Bake 325F and adjust your oven rack to the middle. With hand mixer or whisk, mix oil and sugar together until fluffy.
2. Add eggs one at a time, whisking each one in completely into sugar mix before adding the next.
3. Zest your orange using zester or the fine grate of a cheese grater and add to wet mixture.
4. Mix all dry ingredients together (Flour, baking soda, salt, cinnamon) and slowly pour into wet mixture, along with carrots and mix-ins (raisins and or nuts).
5. Using a clot or paper towel, grease the sides of your cake or loaf pan with coconut oil or any non-olive oil equivalent. Pour in cake mixture.
6. Bake for 35-40 mins (for 2 cake pans) or 55 mins (if using a loaf pan) until you can insert a toothpick to the middle of the cake and remove clean.
7. Icing: Whip all ingredients until creamy and spreadable texture. Add optional orange zest to make some fancy icing!
8. Remove cake and let it cool completely before icing. Enjoy!

* Tips for icing: If you are stacking two round cakes, put the first one top facing down, ice it, then add the second round cake with its top facing up (so the two bottoms of the cakes are stacked together). This makes it sturdier with two flat surfaces stacked on top of each other!

For more baking inspiration follow us @girlganggoodies or order a gift card or freshly baked GOODIES at www.girlganggoodies.ca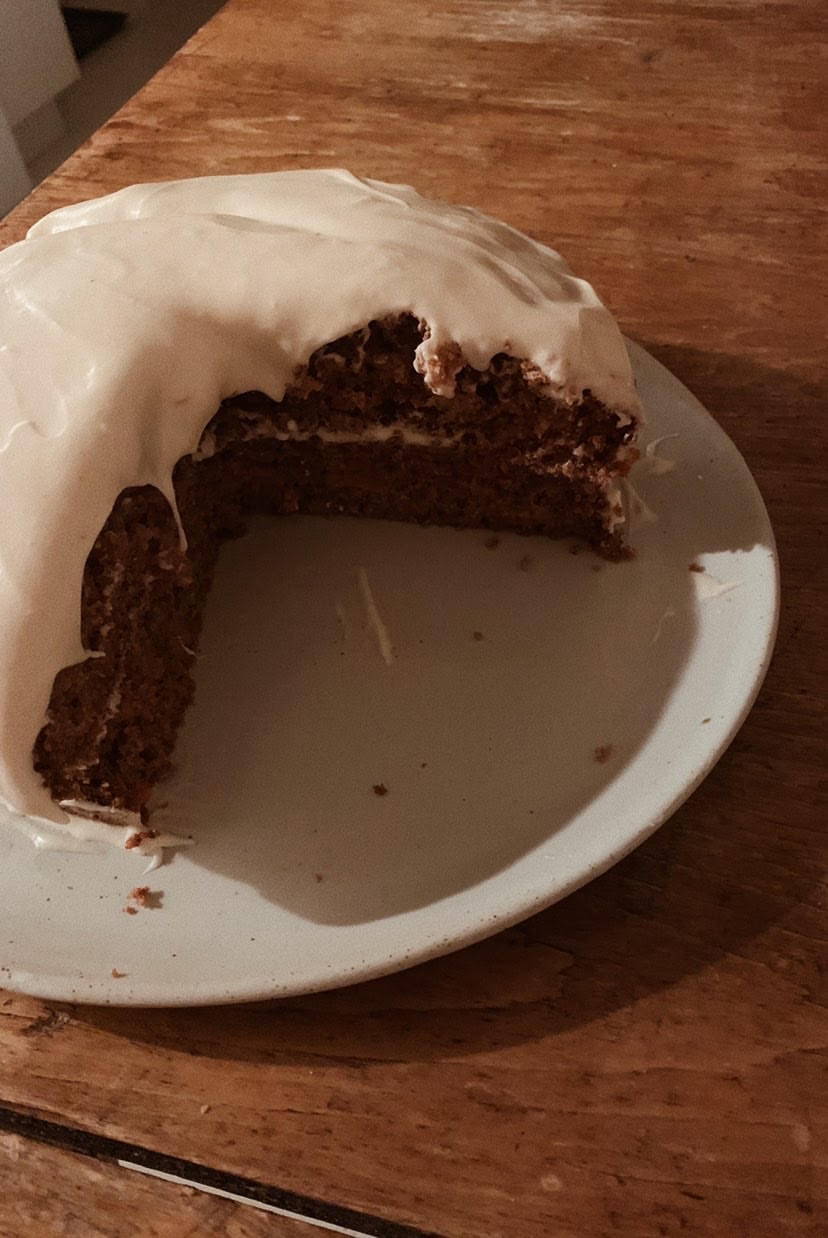 ---
---
MEET THE CONTRIBUTOR
Morgan Lunn
Morgan Lunn is the founder of GIRL GANG GOODIES, an online cookie delivery service in Toronto, Canada. After a personally challenging year and being supported by her girl gang, Morgan wanted to build a brand around celebrating the powerful womxn in our lives coupled with her love of baking – and GIRL GANG GOODIES was born. GIRL GANG GOODIES' ethos is creating more moments to celebrate those womxn and service is delivering freshly baked cookies to your door

CONNECT WITH MORGAN
Instagram: @girlgangoodies