Periods were something I didn't think much about. Every cycle, I'd go through the same motions of managing my body - whether it was experiencing cramping or discomfort, or dealing with a rollercoaster of emotions. Honestly, periods were something I always dreaded.
That is, until I found Organicup's video demonstration on menstrual cups. I fell down a rabbit hole of sustainability and periods - two concepts that seemed foreign when put together. Finally, I started to think and feel differently about my period and my body.
---
WHAT IS A PERIOD / MENSTRUAL CUP?
Simply put, a menstrual cup is a small cup that collects fluid during your menstrual cycle. It's made of flexible material, usually silicone or latex, that gets folded up and inserted into the vagina. Unlike pads and tampons, menstrual cups can be emptied out every 6-12 hours (depending on flow).
Menstrual cups come in all shapes and sizes. Picking out your goldilocks cup is really just a matter of trial and error. You need to consider things like the height of your cervix on your period (a high, average or low cervix determines the height of the cup.) You'll also have to decide on the firmness of the cup and also the shape (firm vs. soft, thin vs. wide, and size - a slightly larger size is recommended for those who have given birth before.)  Put a Cup in It (PACCI) is an awesome resource to check out if you want to learn all about menstrual cups and what works best for you.  
---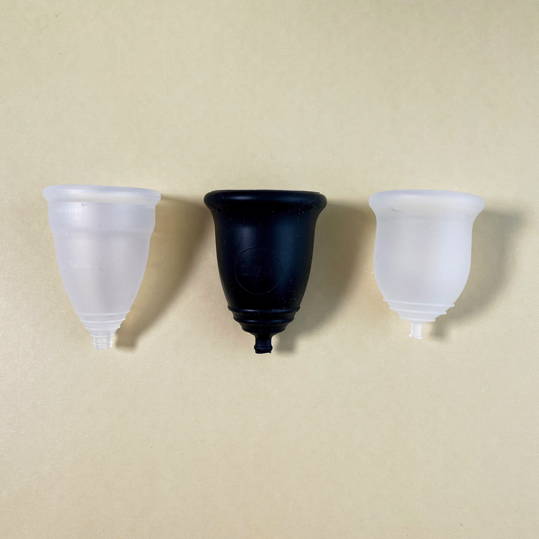 Benefits of a Menstrual Cup
A big benefit of using a menstrual cup is being able to cut down on the amount of menstrual product waste. It's estimated that on average, a person who menstruates uses 11,000 tampons in their lifetime - this number increases for pads (did you know that tampons are considered taboo in some cultures.)
From a financial standpoint, menstrual cups can last several years with great care, so you won't need to purchase pads and tampons every single month. This means you can save that money, and put it to better use within your monthly budget 😎
On a personal note, the biggest benefit I've noticed in using a menstrual cup is that they make me feel like I'm not on my period - AT ALL! Before the switch, pads were my preferred method because - unlike Tampons - I didn't have to change as often. BUT, wearing pads gave me a "wet" feeling which was super uncomfortable. With menstrual cups, that discomfort is gone, and I don't feel limited as I face each day of my cycle.
---
ALTERNATIVES TO MENSTRUAL CUPS
If menstrual cups aren't something you're comfortable trying, there are other sustainable options out there:
We're living in the golden age of menstrual products, and there are more eco-friendly options than ever. Picking a method that suits your lifestyle and learning more about what works for your body can shift some of the "dread" when it comes to periods.  
Now is the time to start exploring all of the available options. Let's remove the stigma around periods and get informed about what's available.
---
---
MEET THE CONTRIBUTER
ANNE SERVIDAD
Anne is a Toronto-based content creator and freelance writer passionate about discovering the newest in organic/natural beauty. She started berdeglow to connect with local, growing Canadian companies as well as individuals who share her passion for beauty. Inspired by the people behind these businesses and their vision for the future, she's become more conscious about goes on her skin and in her body. Anne believes that Canada has much to offer when it comes to the beauty industry, and dedicates her platform to supporting small businesses with big dreams.

CONNECT WITH ANNE