I could get one complement for the rest of my life it would have to be "you're glowing!" There is something about the phrase that instantly lifts my spirits, makes me feel mysterious with a dab of glam, and just in my full power.
I love the phrase so much so that I've basically coined myself as a glow-getter. Always looking for ways to amp up my glow. And, I'm not talking about glowing just on the outside, I'm talking about feeling the inner glow up. Deep on the inside, you can feel your heart is lifted, your soul is warm and full of light. That's the feeling I'm after.
So how do I get there when sometimes it can seem next to impossible? Because, let's be honest, we all have those less-than-glam days. Here's how to really hone in on your inner glow:
---
I can't say this enough, but a good night's sleep is essential to feel sharp. If I don't get enough sleep I literally feel hungover. I get nauseous, have intense migraines, my eyes are puffy and I just feel out of it. Getting enough sleep for your body can do wonders for your skin, immune system, cortisol levels and your overall mood. (Have you tried a nightly spritz of Calm to relax pre-bedtime?)
---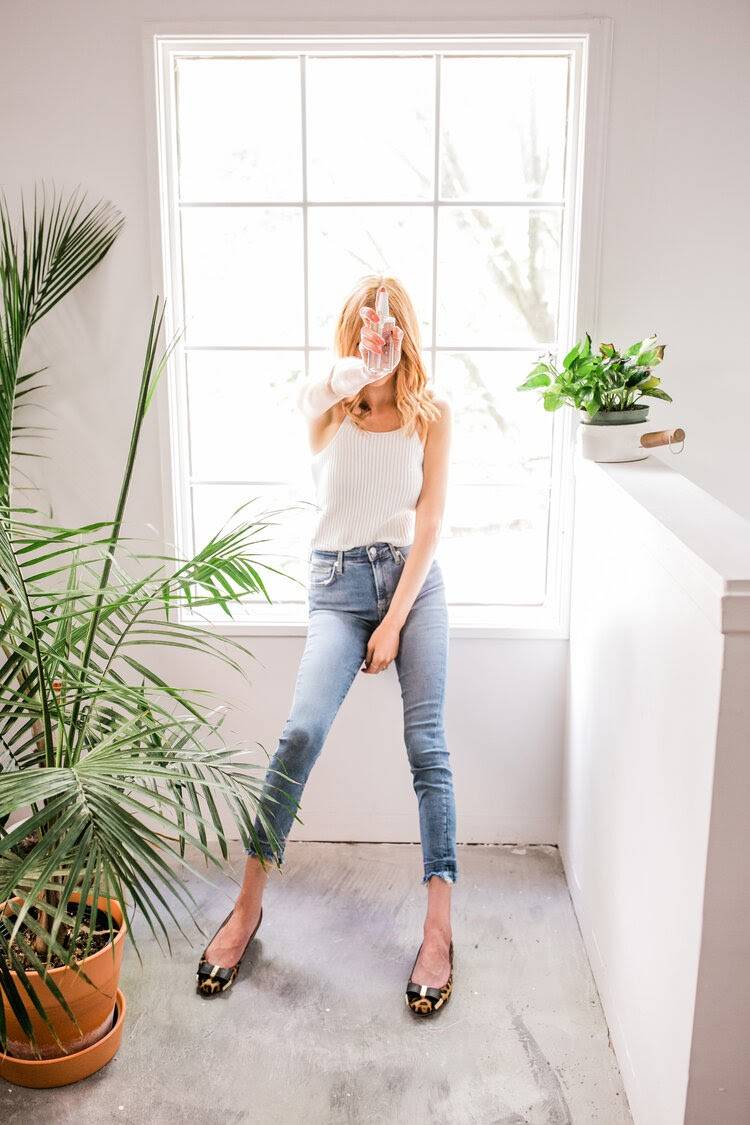 I know this seems like the basics, and we all know we should be drinking enough water, but are we? You can battle groggy feelings in the morning and feel detoxified and fresh with a cup of cold lemon water. It wakes you up, mentally and physically. It's like cold water gives me clarity, you know? Also, I'm always carrying around a Rose facial mist (try Rosa!) with me throughout the day. I leave it in my bag for when I need a dash of extra hydration straight to the skin. Rose is one of my favourite scents and I just feel like it really glows me up and gets me going when I'm in a slump.
---
Facial oil is literally my hack for everything. Feeling tired? Pat a little oil on your skin to wake it up and plump it up! I love mixing facial oil in with my moisturizer or foundation. It gives you a certain glow or dew, that you really can't get from anywhere else. A little goes such a long way, so it lasts a long while. Try adding Aurora to your am skincare routine to awaken your glow.
Three simple ways to hone in your glow, inside and out! Now tell me your secrets…
---
---
MEET THE CONTRIBUTER
GABRIELLE PACIFICO
Gabriella is a lifestyle blogger from Toronto and lover of all things pink. A self-proclaimed glow-getter, Gabriella strives to achieve her goals while fiercely showcasing a gorgeous glow from the inside and on the outside! Gabriella writes on topics of natural beauty, fashion and wellness because it's what she loves and loves to share. Two of her favourite things? Rose scented anything, and facial oil.

CONNECT WITH GABRIELLA
Web: www.pastelsandpastries.com
Instagram: @gabpgalante
YouTube: Gabriella Pacifico